Bio
Denise Baer is a political scientist and consultant based in the Washington, DC area.  She is pictured here with the motorcycle she sold to go to graduate school — netting a car and $1,000 which made it all possible.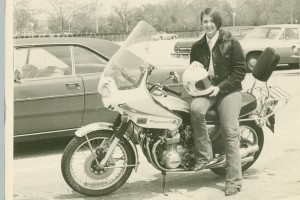 Baer has provided research, governance and political consulting for a variety of federal agencies and nonprofit organizations, including some international work for USAID, National Democratic Institute and women's organizations. Currently, she is project director for the Institute for Women's Policy Research Achieving Parity project examining recruitment patterns affecting the election of women to office in the U.S. She is the author or co-author of three books and over a dozen scholarly articles on political parties, elections and women and politics. In addition to providing campaign training for women's organizations, she has over 25 years experience teaching at the graduate and undergraduate levels at major universities. Baer, a political scientist, earned her Ph.D. from Southern Illinois University-Carbondale.
Previously, she was Director of the Boston University Washington Academic Center where she relaunched the public affairs and journalism internship programs.  She also was the founding director of the Illinois-in-Washington program for the University of Illinois, and also directed the Washington Center's Campaign 2004 program at the Democratic and Republican conventions.  She has also advised other universities on development of public affairs programs.
Her professional career is based on the Schattschneider precepts of linking research and praxis, which includes such accomplishments as working on passage of the Sojourner Truth Statue Resolution and other initiatives of the women's movement, serving as an American Political Science Association Congressional Fellow in the 103rd Congress (including working for Rep. David Price and the U.S. House Democratic Caucus). attending the last seven Democratic and Republican conventions, working in campaigns, and in recent years, expanding her work to comparative parties and democratization, including work with Nepali, Filipino, and Algerian political leaders. Prior to joining BU, she has provided consulting for federal agencies (Departments of Justice, State and Health and Human Services; Office of Juvenile Justice and Delinquency Prevention; Agency for International Development), and nonprofit organizations (National Democratic Institute for International Affairs, Pegasus Research Foundation, Center for Society, Law and Justice, Women's Campaign Fund, National Women's Political Caucus; National Congress of Black Women, Girl Scout Council of the Nation's Capitol, Institute for Women's Policy Research, National Center on Policy, Committee for the Study of the American Electorate, Bethune-DuBois Fund, National Black Leadership Roundtable). In addition, Dr. Baer has considerable experience in adult professional education, including "train-the-trainer" models for professional staff as well as in public leadership and candidate training.
She is the mother of four daughters, and enjoys cooking, gardening, travel, and political humor.